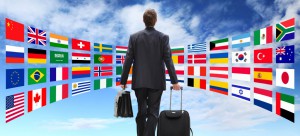 In an age in which we are seeing more and more things automated everyday, we still rely on a human element for completing high quality translation activities. Even with AI advancements, we are still a while off before transcription jobs can be done completely and successfully without human input.
As with most roles, to secure high paying transcription jobs you'll need to know how to deliver what companies and their customers are looking for and it's important to make sure you highlight your skills and where you excel over others.  But before we get into all that, you need to have a good understanding what these roles actually involve.
What is Transcription?
Transcription is a process where a recording is converted into written document. Recordings can be from a range of sources, such as voice mail messages, music files and even audio tapes, and as you may have guessed already, transcription jobs involve wearing headphones to listen to the recordings and documenting them into the required format, which is generally a word or text document.
With so much of our lives being recorded on audio and video, there is a huge demand for this content to be available in text format, which is where transcription jobs become a vital part of record keeping processes. A company may require the use of a professional transcription service for many reasons, including:
Medical practitioners notes of a patients visit
Presentations used at Seminars & in Telecasts
Podcast Interviews
Business Meetings and Presentations
International conferences
Journalist interviewing actors and musicians.
And much more….
This is just a short list to give you an idea of the type of tasks you will face when securing online transcription jobs, but remember that all clients are unique and will bring different requirements and demands, so you should be prepared to expect anything that they might need to keep their business successful.
What do I need to be able to take on transcription jobs?
Starting as a transcription specialist is quite simple, and requires very little in terms of resources. At minimum, you will need:
Basic word processing package like Microsoft Office.
Software to be able to play a range of audio file types.
A medium to large space in the cloud to send and receive large files, such as Dropbox.
Do I have the right skill set for Online Transcription Jobs?
To answer this question you need to evaluate your current skills, work history and skills along with any other talents that would be an asset in a transcription role. Some key skills that we look for are the ability to use a computer to send and receive audio files, while keeping them in a structured order. You'll also need to be able to access and play an audio file on your device. Then, most importantly, to be able to transcribe the audio accurately, in real time.
Can I earn a living with online transcription Jobs?
Yes! Absolutely. There are a lot of people who make a living in online translation jobs, and you can be one of them. The most important thing is to have very good typing skills and reliable technology. It doesn't need to be the latest and greatest, but you'll definitely need up-to-date software if you're planning to serve a wide range of customers.
Where to find online transcription jobs?
Columbus Translations & Subtitling offer professional audio and video transcription services in European and Asian languages to large customer base. If you consider yourself experienced, please contact us to apply for a transcription specialist position with Columbus today!
The above information can assist you in taking the steps towards earning a full-time living with transcriptions jobs. Remember that you can always check out our blog, clients reviews and services for a better understanding of our company profile if you are considering working with us.